Staff celebrate Colm and Sylvia's recent retirement
13th Feb 2015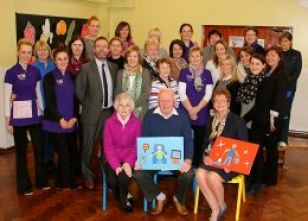 St Patrick's PS and Nursery Castlederg celebrate Colm and Sylvia's retirement.

The staff and friends gathered to celebrate Colm Sharkey and Sylvia Mc Hugh's recent retirement from the staff of St. Patrick's PS Castlederg.
Sylvia has a long connection with the school over 34 years, as all her children attended the school and Sylvia also worked in the kitchen. She has been a member of the caretaking team for over 10 years and will sorely missed at the school. Her late husband Charlie and her son have both served on the Board of Governors. We wish her well in her retirement. Sylvia was presented with a gift on behalf of the staff at the school

Colm also has a long association with the school and with the schools in the parish. Colm served as caretaker for over 33 years at St. Eugene's HS and on retirement he took up the position of school crossing patrol on the Castlefin Rd at Charlie Lynch's gate. He braved wind, rain, ice and on the odd occasions sun for over 15 years keeping the children safe on their way to and from the school. His wife May pictured also gave great service working in the schools meal kitchen. We wish him well in his retirement. Colm was presented with a gift from the staff at the school.
St Patrick's Primary School & Nursery, 73 Castlefin Rd, Castlederg, County Tyrone, BT81 7EE
Phone: 028 81671458